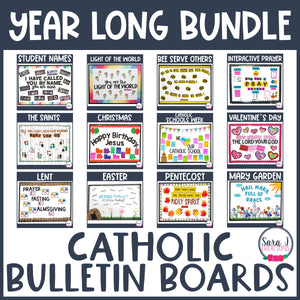 ⭐ CHECK OUT THE PRODUCT PREVIEW HERE TO SEE WHAT IS INCLUDED.⭐
Do you have a hard time coming up with ideas for bulletin boards for your Catholic classroom? Let me help save you time! I've got a different bulletin board option for each month of the year in easy, ready to use downloadable sets.
Let me make your bulletin board, door or hallway decor for your Catholic classroom easy. Just print, cut and hang!
This bundle includes 12 different bulletin board sets for you to use all year long. Some can be hung up and kept up all year long. Others are specific to a day or season on the liturgical calendar.
A great way to save time yet have vibrant, easy to make bulletin boards that help teach students about the Catholic faith.
Each bulletin board set includes:
Letters to print and cut by hand for the title (black letters and white letters included)
Directions & templates for creating the student activity part of the board
Directions for how to use, resize, fonts included, tips & tricks, etc.
.png files of letters if you want to use with your Cricut or Silhouette machine
This bulletin board set does NOT include:
Background paper
Borders (2 sets DO include printable borders)
Directions for how to use with cutting machines (machines vary, check with your specific machine and computer type for how to use png files)
The following sets are included:
----------------------------------------------------------------------------------
PLEASE READ:
Due to terms of use/copyright for the fonts and clipart used, all letters of the alphabet are NOT included in this file. Only what you need to make the bulletin board as it is shown in the picture.
I do not do custom work at this time and can't alter the phrase that is shown in the pictures.
---------------------------------------------------------------------------------
⭐ CHECK OUT THE PRODUCT PREVIEW HERE TO SEE WHAT IS INCLUDED.⭐
Please note that this is a digital resource, so you can start using this resource immediately. 
Have a question about this product? Please contact me using the form at the top of the page.
To use - You will need to have an up to date version of a PDF Reader like Adobe Reader installed on your computer to open this resource. 
If this is a zip file, you will need to unzip or extract the files before opening the PDF files in Adobe Reader or a similar program.